Blog
What golfers say about Heritage Isles.
At Heritage Isles we take great joy in the kind words and recognition that our hard work and improvements are drawing.
Golfers are recognizing that we have the top course conditions in the Tampa area, and they're saying some very kind things.

2/25/18
"So many good things have been happening at Heritage Isles in the last year or so. I used to play this property about once a year. Now I play it about once every 4-6 weeks. My most recent round with three friends came at 2pm on a Saturday afternoon and the parking lot was packed. That said, pace of play was no issue and overall conditions of the golf course have been very good for months now. Even food and beverage options seem to be trending in the right direction. For the first time since I've been playing here, there was a cart just off the ninth green featuring a beer and brat combination at the turn. This is a great idea because the actual bar and grill in the clubhouse is a bit removed from the ninth green and tenth tee and golfers like us do not want to lose our position on the tee sheet. While he's not a Heritage Isles employee, keep your eyes out for a nice, young man named Kyle whose parents own the house behind the 8th tee. Kyle has a huuuuuuuuuuuuuge selection of found golf balls that he cleans and offers to players at the bargain price of 50 cents each. You pick the ones you want. Kyle has a bigger selection than Dick's Sporting Goods. I took a handful of his Kirklands because Costco simply cannot keep them in stock…but Kyle has them! My compliments to the new management of Heritage Isles for what they have done, are doing and what they will do in the future. Also looking forward to playing in their big celebrity charity tournament on Saturday, April 14th."

2/22/18
"I've been playing golf for 25 years and this was one of the most fun courses ever at an incredible price. The course was in great shape, had a lot of very interesting holes with great bunkering. Not a fancy well known designer but a great layout. Lots of wildlife around, not too many houses making you feel claustrophobic. Can't beat the price with a stick. Would have been great at twice the price. The course is also easy to find and has nice practice facility too. I wish I didn't live so far away, I would join here in a heartbeat, I could play it every day."

2/17/18
"Played Heritage Isles for the first time and LOVED it. Course is in TERRIFIC shape. It's an interesting layout – sufficiently challenging for the low handicapper yet not too tough for the high handicapper to enjoy. The course was not overbooked the day I played, and pace of play was perfect. Despite the one-hour drive, I plan to play Heritage Isles often. I was happy to discover this gem which is in better shape than several much higher-priced courses I've played in the Orlando area. Staff was friendly and welcoming to make for an even more enjoyable day of golf."

2/17/18
"Course is in excellent shape for this time of year. Always a great value and this course is always up there with the best."

2/15/18
"First time playing this course and was pleasantly surprised. Fairways were in excellent condition as were the greens. Number and placement of the hazards makes you think about what club to use. Both fairways and greens were faster than I was used to playing but really enjoyed the challenge. Will definitely play it again."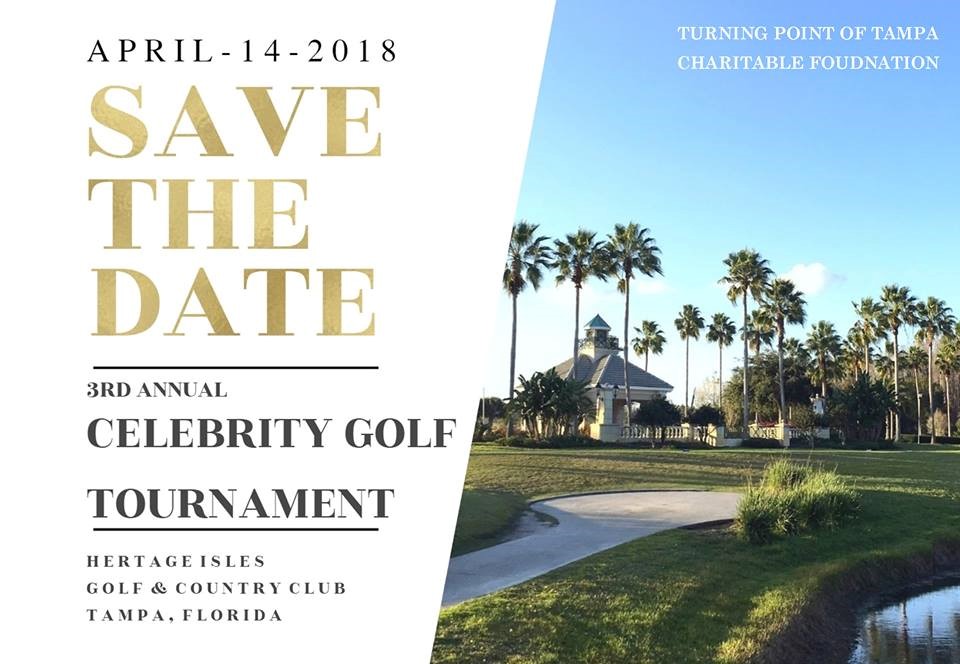 Here's an excellent chance to help a great charity and enjoy a day of fun with golfers and celebrities from local radio and television stations.
Heritage Isles will host a Celebrity Golf Tournament April 14 to benefit the Turning Point of Tampa Charitable Foundation. The nonprofit foundation provides scholarships to people who lack insurance or enough money to access treatment for alcohol, drug, and food addictions.
The Celebrity Golf Tournament is open to golfers of all skill levels, with the accent on fun and friendly competition. But it's also an excellent way to open your heart to people who need support to overcome addiction and get their lives back on track.
Reserve your spot by calling Rich at Heritage Isles, 813-907-7447. Sponsorship opportunities also are available. Rich can help you with sponsorships, too.