Many years ago when I started teaching golf in the 1970's the belief was that ladies pros' had better swings than the men. As an instructor to thousands of golfer's men and women alike I will address this belief as tactically and honestly as I can.
My goal as a young PGA Professional Instructor was to discover the most efficient way to swing a golf club. The physiological fact that women have 1/3 less muscle mass than men puts them at a power disadvantage immediately. I always use the analogy of someone shooting a rubber band as a comparison of how the muscles are stretched in a golf swing. The thicker rubber band will have more elastic strength than a thinner one, and may hurt more if it hits you. Flexibility is a key factor in elasticity and women may have an advantage in this area over most men, especially in body rotation and maintaining a wide swing arc.
Men, however because of their physical strength can use various muscles groups to power the club, sometimes contrary to the laws of circular motion. In other words their strength can sometimes make up for flaws in their swing and muscle the club into the golf ball. Women on the other hand do not as a general rule use extraneous force to swing the golf club and adhere to the laws of physics and allow the club to do the work. This is a main factor in starting golfers when they are young, around ages 5, 6 or 7, before their arms and hands are strong enough to muscle the club. As a result they learn the swing principles at an early age and it stays with them virtually forever.
The modern golf swings on the PGA Tour have many great swings, and studies have grouped the different players in categories. It's interesting that the pro's swings that golfers seem to gravitate to are the effortless swingers like Freddie Couples, Ernie Els, and Luke Donald. These easy swingers have learned to accelerate the club with great velocity accompanied by the look of no effort. Most all lady golfers, because of physiology, have to swing with these principals that result in effortless power to become a good golfer.
It's not that lady golfers swing better than men, because many PGA male golfers swing with the perfect technique resulting in effortless power. However, for ladies to excel in golf they have no choice but to swing with perfect technique and let the club do the work.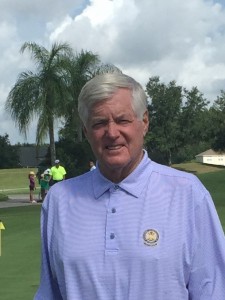 Rick Bradshaw
2004/2006 North Florida Section PGA Teacher of the Year
Director of Instruction, Dent/Bradshaw School of Golf
Heritage Isles Golf Club