Practice Facilities
Heritage Isles Golf & Country Club Practice Facility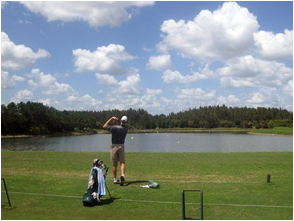 Before you begin your round be sure to visit our practice facilities. Because of the requirements that this very special course puts on your game, we feel that good preparation on the range, chipping green and putting green will only help you play better and enjoy our course all the more.
You need to particularly emphasize the practice of your approach shots because of the many very well-protected greens on the course. To warm up and get your golf experience off to a good start, check in at our large driving range where you will find a large hitting area located near the clubhouse. We have an aqua range where golfers hit into a 20,000 square-foot lake. By hitting floating balls into the water you will be able to get the exact distances you hit your clubs. This will most certainly play to your advantage on the course. Those interested in just dropping by the club to hit balls are welcome as well.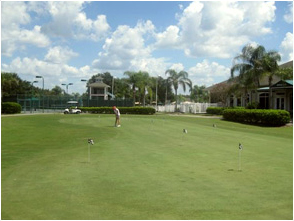 Since such a large percentage of the game is made up of the "short game," and the fact that so many water, marshland and bunker hazards surround the greens, make sure you take some time at the separate practice green set aside for chipping and bunker practice.
Finally, practice your putting on our large putting green that is maintained in the same manner as the greens on the course are also maintained. We have a reputation for having meticulously manicured greens. So once you have a feel for the speed of your putts on the practice green, you're going to know what you have to face on the course and you'll shave strokes off your final score.
Click Here or call 813-907-7447 to book a tee time!