Feeling hungry? Stop by the BayScape Bistro after your next round!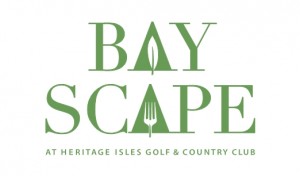 BAYSCAPE at Heritage Isles
  10630 Plantation Bay Drive
 Tampa, Florida 33647

BAYSCAPE BISTRO
Enjoy breakfast or light dining in the Dining Room or on the Terrace in the classic Clubhouse Restaurant Bistro and Bar. Have a cocktail while you sit back to watch a game, enjoy a fresh salad or tasty snack, and relax in a casual environment with a fantastic view of the golf course. The BayScape Bistro is open daily offering breakfast, lunch, and dinner. Drop by to watch Monday night football and other sporting events throughout the week.
HOURS OF OPERATION RESERVATIONS AND CONTACT INFORMATION
Sunday-Thursday              9:00am-9:00pm
Friday – Saturday             9:00am-10:00pm
Terrace Breakfast
Saturday & Sunday           8:00am
Open for Breakfast, Lunch and Dinner 7 days a week.
BAYSCAPE BISTRO MENUS – Dietary Needs Policy
Consumer Advisory: BayScape prepares their own bread in our kitchen and uses nuts in many preparations. People sensitive to gluten dust or with certain allergies may experience discomfort.  Also be advised that consuming raw or undercooked meats, poultry, seafood, shellfish, or eggs may increase your risk of foodborne illness.
BAYSCAPE BAR HAPPY HOUR
Monday-Friday: 4 pm – 7 pm
$2.50 Domestic Drafts / $3.00 House Wine / 1/2 Priced Drink Specials
Tuesday:              "Take-Out" – $20 (feeds a family of 4) Let Us Prepare Dinner for You
                             TO-GO Tonight!  Call to Reserve Yours 813-994-3445
Wednesday:        "Wings"-Buffalo or Mojo Wings 6 for $5-Happy Hour Every day
Thursday:           "Trivia Night" 6:30 pm-8:30 pm
Friday:                "Fiesta" DJ/Karaoke Night 8 pm-Midnight
Saturday:             Join Us for Brunch!
Sunday:               Join Us for Brunch!
                             "Family Night" – Kid Eats Free w/Adult Entree – Indoor Games,
                              Cartoons @ 5 pm & Family Feature Film on the Big Screen @ 6 pm
Weekends:         "Breakfast on the Terrace" Open @ 8 am for Fresh Ingredients,
                              HouseMade Breads & Pastries, Hot Coffee & A Great View!
BAYSCAPE VERANDAH
Overlooking the Heritage Isles Clubhouse pool, the al fresco BayScape Verandah offers Poolside dining for lunch, dinner and happy hour.  Sit back, relax, and enjoy while sipping and savoring in the Plantation style ambiance of the BayScape Verandah.
BAYSCAPE BAY ROOM
With our scenic views of the waterway and golf course from the 19,000 square foot Plantation style Clubhouse, Bay Scape at Heritage Isles offers the charm that creates a day to remember. At Bay Scape at Heritage Isles, we provide you with the highest standard of personalized service and a variety of menu items from which to choose for your event. The BayRoom offers an exceptional space awash with natural daylight, surrounded by an expansive terrace, serving as the perfect venue for a range of occasions: from an elegant wedding ceremony and reception to intimate social gatherings, birthday parties, and professional business/corporate meetings. Each event hosted at Bay Scape at Heritage Isles is designed to be as unique as each individual client. We are dedicated to giving our clientele the most memorable event possible through our professional service, creative menu options, and complete satisfaction.
BAY ROOM/EVENT SPACE:
Our Special Events Facility / BayRoom, at 2200 sq.ft., accommodates 120-150 people, and is supported by wired and wireless internet, to allow for those business/corporate needs. An independent bar area with taps, a bridal suite and Terrace view.   A room rental fee will apply to all events, including ceremonies, conferences, meetings, parties, receptions, and events with special set up requirements, a dance floor can also be provided.
Contact Bayscape Events for ALL your event planning needs.
Contact Us:
For more information:
10630 Plantation Bay Drive
Tampa, Florida 33647