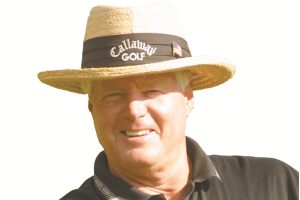 I teach thousands of golfers annually, and have noticed that many of them segment their swing as if they were driving a stick shift manual transmission in a car. Some unfortunately forget to use the clutch and slam the gears together grinding them as they proceed through the swing motion. The secret to a smooth and blending together of movements can be compared to a smooth shifting of gears in a cars automatic transmission.
The key ingredients are as follows to install an automatic swing transmission:
| | |
| --- | --- |
| 1 | Do not try to force positions of the club head with independent movements of your hands and arms, and shoulders. This will grind your swing gears worse than ever resulting in powerless effort. |
| 2 | As you prepare to swing at a golf ball, do some practice swings sensing the weight and momentum of the club head swinging and swooshing through the area of impact. This pulling sensation will stop you trying to aim and force the club at the golf ball. The key is to allow the club head to swing through the ball and trust that its momentum will swing automatically into and through it with unforced velocity and precision. |
| 3 | Once you feel the weight of the club head swinging please notice that the tension in your fingers and hands gripping the club should lighten. If you were a boxer you want to play golf like Muhammad Ali throwing light and quick jabs, not George Foreman. |
| 4 | The body should blend its rotating movement with the swinging momentum of the club head. Remember the golf swing is a momentous occasion and memorable experience! This will teach you to allow your shoulders to turn with the swinging club heads momentum and allow them to automatically work in sequence. The placing of a towel under both arms is a drill to teach your arms not to erroneously lift, and work correctly with the club heads swinging motion. The drill practically forces your body to pivot or rotate as the towel does not allow your arms to lift. |
My golf swing is definitely powered by an automatic swing transmission, and as I set up over the ball I think and imagine; that my arms are webbed together forming a triangle with my upper triceps resting on, relaxed and somewhat secure on my chest. I then feel my feet, legs and knees settling into the ground to secure my power source, the ground, so I can pivot and rotate my shoulders chest, core and hips back, all the time sensing the outward momentum of the club head swinging.
My right leg loads energy and limits excessive movement of the lower body as my upper body turns and stretches into the right leg and right foot resistance. My club and arms reactively swing up on the back swing and reverses direction and whips back down automatically into and through the ball with ease as effortless power.
Rick Bradshaw PGA Golf Professional/ G.M. Heritage Isles Golf Club (813 220 8099) 2004 and 2006 PGA Teacher of the Year (North Florida Section)