Be a Limber Jack swinging a golf club. Many prominent instructors compare the rotary movement of the golf swing to a Lumber jack swinging the ax horizontally into the tree they want to cut down. To implement this feel to the golf swing maintain the flex in the knees and bend from the waist over the golf ball to allow the golf club to swing on the correct plane.
Also be limber not lumber. The golfers that strike the golf ball best have great flexibility to enhance club head speed and center face club contact through the ball like Rory McIlroy.
Allow the momentum of the club head to strike through the golf ball. The secret to the lumber jack cutting wood is allowing the energy built up on the back swing to release into and hopefully through the wood the same as a professional golfer.
Swing through the golf ball with hands, arms and body weight turning through the shot.
Don't Be an Anchor on a Tanker. When I appeared on Golf Channel's Academy Live with P.G.A. Tour Pro Tim Petrovic, I coined my phrase Light Foot Right Foot through the ball. This is the allowing of the momentum of the club head to pull your body weight of your right leg on the follow through. This image and action will help synchronize your arms with the body motion so the arms don't swing past your body leaving your body hanging back like an anchor on a tanker.
Watch Bubba Watson's trail foot after he hits one of his towering drives. You will see his left foot come off the ground for an instant as the club heads swing momentum goes through to a finish. In this case it would be light foot left foot as Bubba swings from the left side of the ball.
Bubba Watson is certainly a Limber Jack as he leads the tour in driving distance pretty much every year.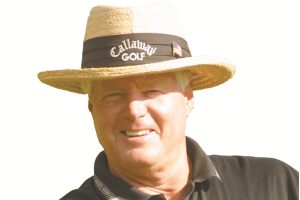 Tip provided by Rick Bradshaw two times North Florida Section P.G.A. Teacher of the Year. G/M, Director of Instruction Dent/Bradshaw Golf School, Heritage Isles Golf and C.C., Tampa Fl.