Let`s take a humorous look back into the prehistoric times and examine why the most ferocious and strong dinosaur, the T-REX, would be considered a controlled golfer with accurate but short drives and iron shots, and was consistently out driven by the top rated golfer of his era THE CRO MAGNAN MAN.
We have to first consider flexibility of the torso for both golfers and the ability to create power from rotation while maintaining a stable base support of feet and legs.
Another contributing factor to long drives is the width of swing arc. The T-Rex is at a serious disadvantage here with a big body, but tiny little arms which limit his ability to achieve a wide, powerful golf swing.
Third, how quick and tight can we pivot to create an inner force for outer club head velocity? Or in simple terms, will our body get in the way of ourselves as we try to swing the golf club.
I believe the T-Rex falls short in all categories. His flexibility may be okay for rotation but his feet are elevated almost like high heels and may not provide the friction and support for rotary movement. The Cro Magnan Man can support much easier with his bare feet grabbing the ground. Golf shoe companies are really concentrating on getting the shoes lower and closer to the ground for more power.
The T-Rex has extremely short arms providing no width, which is imperative for a wide swing arc and long drives. Even with the high tee, so he can reach the ball, his drives fall well short of the Cro Magnan Man.
The T-Rex has a difficult time getting his body out of the way of himself as he tries to rotate his big torso through the ball. As a result of this inability to rotate he will have to rely primarily on arm swing and because his are so short he won`t be able to hit the ball far.
Please consider these implications and feel good that you would have out driven the T-REX consistently.
Happy Golfing!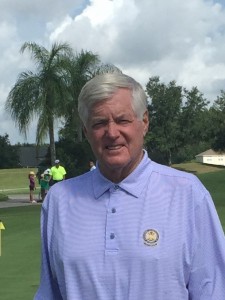 Rick Bradshaw
813.220.8099
2004/2006 North Florida Section PGA Teacher of the Year
Director of Instruction, Dent/Bradshaw School of Golf
Heritage Isles Golf Club