Why does a golf ball fly in this direction or that?
Every golfer has wondered sometime about why a shot didn't go where he or she intended.
Two key reasons help decide the direction a ball will travel.
•Path — The direction the clubface is traveling through at impact. The club can travel on three different paths during impact — Inside Out, Inside-Square-Inside, or Outside In.
•Clubface Position – The clubface can be square, open or closed through impact.
The path will determine which direction the ball starts. Clubface position will create the spin on the ball and the way it will curve.
So you see these various combinations of path and clubface position mean that a ball has nine flight patterns!
The ideal swing creates a path that is from inside-square-inside with a square clubface. This will cause the ball to travel straight.
However, you can play golf by using any of the paths with a consistent clubface position. Understanding the direction the ball starts and the curve created by the clubface will allow you to make the necessary corrections.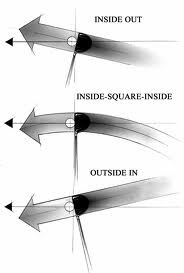 Snowbird Note:
Don't rub it in, but remind your friends up North and in the Midwest what they are missing as they shovel snow and deal with sleet and ice while you are here in the Sunshine State.
Average temperatures in the Tampa area range from a high of 71.6 degrees to a low of 53.8 in February and from a high of 76.3 to a low of 58.5 in March.
Golf, anyone?