I've thought about many words in golf that are bad, but none that make the swing worse on the golf course than guiding or steering the club or ball. The golf swing should be a free wheeling motion with the utmost confidence that the club head will accelerate and align into the back of the golf ball and continue through to the finish. If, at the last second, before the club strikes the ball we try to guide or steer the club into the ball or at the target, we have succumbed to the "fear" of missing the shot.
Here are several tips and swing thoughts to help you overcome guiding or steering the golf club.
| | |
| --- | --- |
| 1 | Light Grip – Learn to waggle properly to eliminate any excessive tension in the hands or wrists |
| 2 | Take practice swings before you hit and watch for the blur of the club head swinging through the impact area from in to out. |
| 3 | Don't look up to see the ball fly until you have seen the club head swing through the ball from in to out. Remember, watching the ball fly is an entertaining distraction! |
| 4 | Think of the ball as a passenger at a bus stop …. however, the bus does not stop. The only way they are getting on the bus is to grab hold of the window. |
Do not slow down for the ball, swing free though it from in to out on the swing path and the ball will draw right to left down the fairway . Remember, watch the blur in your practice swing and copy it in your real swing!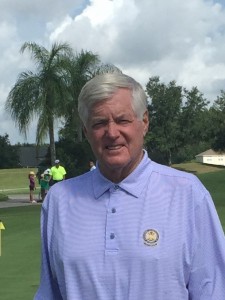 Rick Bradshaw
813.220.8099
2004/2006 North Florida Section PGA Teacher of the Year
Director of Instruction, Dent/Bradshaw School of Golf
Heritage Isles Golf Club