Small Strokes Lay Solid Foundations
Heritage Isles is honored to host The First Tee for junior golfers. The renowned youth-focused program is more than a sports club for kids and teens. It's a graduating process that teaches the game of golf and enduring virtues to young players. While introducing fundamentals of the game, the program offers lasting direction to young people from all walks of life by reinforcing values like integrity, respect and perseverance. Young golfers learn lessons on the course that stay with them for the rest of their lives.
With start times every Tuesday and Saturday mornings, the program is open to all young players. The cost of registration is based on family income.
Doing Well Beyond the Putting Green
With more than 1,080 locations in the U.S. and several other countries, The First Tee at Heritage Isles will instill character and leadership skills in Tampa Bay's most idyllic course setting. Teaming up with experts in positive youth development, The First Tee helps youth become good golfers and even better people.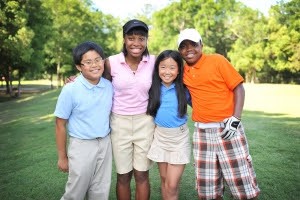 The First Tee emphasizes Nine Core Values: honesty, integrity, sportsmanship, respect, confidence, responsibility, perseverance, courtesy and judgment. Through golf and First Tee's core values, kids and teens will learn life skills including:
Making proper introductions
Managing emotions
Resolving conflicts
Setting up step-by-step goals
Planning for the future
Appreciating diversity
Advancing through the Program
Young golfers progress through levels by demonstrating The First Tee Nine Core Values, life and golf skills as well as passing an assessment. All participants, regardless of age, start at the PLAYer level. The culminating accomplishment of First Tee is reaching Ace.
PLAYer (required minimum age 7) – Tee it up for the first time and learn the game of golf and The First Tee's Code of Conduct.
Par (recommended minimum age 9) – Focus on interpersonal and self-management skills on and off the course.
Birdie (recommended minimum age 11) – Emphasis on setting goals and making them a reality.
Eagle (recommended minimum age 13) – Learn resilience, conflict resolution, and future planning.
Ace (required minimum age 14 or entering 9th grade) – Put it all together and hone in on setting goals, career education, and giving back to the community.