Sam Schulz
Sam has been spending much of her life on and around golf courses, so it only makes sense that she works now at Heritage Isle.
Her degree in Sport Business from St. Leo University is just the latest in a long list of sports-related accomplishments that began when she was 5 years old.
Sam was determined to do everything her older brother did, and that certainly included golf. She and her brother enjoyed golf with their father – weekends on the course, weeknights at the driving range. While other kids went to camp in the summer, Sam and family were on the road, where she played in about 15 tournaments a year.
By age 15 she was a scratch handicap and club champion of her club. When she was a sophomore in high school, her team became the first sports team in the school's history to go undefeated! Although the school was in a tough region and never made it to state as a team, Sam made it individually all four years, with her best finish a tie for fourth.
Now Sam is part of our team at Heritage Isles, working in all parts of the club and making progress toward her dream of eventually running a golf course. With her background and ability, it's just a matter of time until that dream comes true.
Sam collecting one of her junior trophies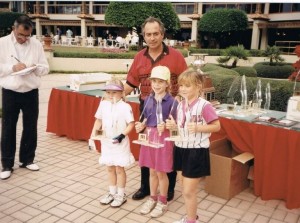 Her trophy room!