Unfortunately the majority golfers by statistics suffer from slicing the golf ball. For the right handed golfer this would be caused a by a left to right spin of the golf ball resulting in a shot veering off to the right of the target.
There are two types of slices; the PUSH SLICE, and the PULL SLICE. The slice that fills my golf school with students is the PUSH SLICE.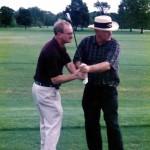 The PUSH SLICE is caused by the tightening of the hands gripping the club in an endeavor to generate more force to the club head as it nears impact. The responsible culprits are the right shoulder, right arm, and hand, planning a violent attack at the golf ball that interferes with the natural release of energy and swinging of the club head through the ball. Because the right hand golfer stands to the left of the golf ball, SIDE ON, like a field goal kicker in football, the golf club swings inside the target line as the body rotates on the back swing, and then from inside to out to the ball on the through swing. If the club is swung naturally and unforced through impact the club head will impart right to left spin (or draw spin) on the golf, the same as the kicker curves the football right to left in the N.F.L. If there is a forcing or pushing of the club into the ball, the club face will open during the strike imparting left to right spin on the ball as well as a direct push of the ball right of the target line.
Because golf is a side on activity, it is much easier to draw the ball with right to left spin, than fade the ball with left to right spin.
The reason is that we can swing the club more inside and around because we are standing inside the ball. It`s much more difficult to impart left to right spin unless you swing left handed.
Remember: GRIP IT LIGHT TO HIT THE BALL CORRECTLY OR RIGHT.
For those of you who slice, proper instruction can correct it easily in one lesson.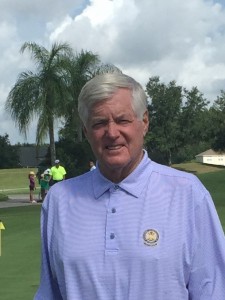 Rick Bradshaw
2004/2006 North Florida Section PGA Teacher of the Year
Director of Instruction, Dent/Bradshaw School of Golf
Heritage Isles Golf Club