Ladies Nine and Wine
Nine and wine, on Wednesdays, starts at 3 p.m. with nine holes of golf, followed by wine specials and snacks at Hoosiers Grille. It's for women only with a $15 fee.
Sign up by calling: 813-907-7447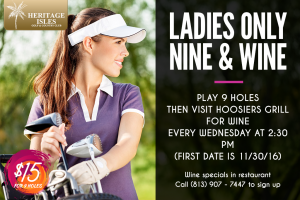 Viper Golf Club
Sunday Golfers:
Looking for others who share your passion for the game? The Viper Golf Club plays here every Sunday.
Details: www.vipergolfclub.com
Hoosiers Grille
Hoosiers Grille, recently renovated, offers specials and happy hour every day of the week. You can even get food to go when you are in a rush.
Holiday Shopping
Our Pro Shop has an amazing selection of gear and clothing from top-quality brands such as Antigua, Heritage Cross and Foot Joy. Stop by and let us help you check off the rest of your Christmas list and stocking stuffer needs.