Several years ago Dan Goldstein, the inventor of the Dynamic Balance System Golf Trainer, asked me to travel to West Palm Beach to visit a facility that had several golf training computers. Dan had explained to me that one of the inventors was not exactly humble and to be prepared.
During this meeting the humble inventor and I were discussing where the club head reached maximum club head speed during the golf swing. My views were that the most powerfully efficient golf swing placed the club head's maximum acceleration 3 feet past the ball. The humble inventor adamantly said IT DOES NOT! I asked him if the swooshing sound of the club head was heard louder a few feet past the ball wouldn`t that mean the club was going faster at that point. IT WOULD NOT he said back, it goes faster just before you hit the ball. I said really. What makes you believe this? MY COMPUTER TELLS ME! I said, well lets see this computer.
His computer had a skeletal figure of a young tour player that I was familiar with. It also had sensors attached to different parts of his body including his hands and wrists. The data measured in millimeters per second the speed at which the body parts moved in the golf swing. The humble inventor advised me to watch the data as the golfer`s hands approached impact. It showed that his hands were traveling 650 millimeters per second approaching the ball and slowed to 380 millimeters about 3 feet after impact. He said to me SEE I`M RIGHT! I looked at him in puzzlement and said when the hands slowed down where did the speed go? He looked at me and walked away. He made a phone call and came back and said the club head? I said next time put a sensor on the club head. He walked out of the building and I never saw him again.
This is actually a true story. The resistance of the feet against the ground through impact sends the power through the hands to the club head. The left foot achieves maximum resistance and opposition to the club just about 3 feet after impact.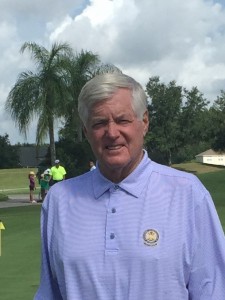 Rick Bradshaw
813.220.8099
2004/2006 North Florida Section PGA Teacher of the Year
Director of Instruction, Dent/Bradshaw School of Golf
Heritage Isles Golf Club