Every time I watch those airboats gliding through the everglades on the cable channels it reminds me of a freewheeling golf swing. Call me crazy if you want but when I swing I feel like a huge air boat fan is in front of me whipping through the golf ball. Please bear with me I know I would have to turn the seat around and drive backwards, but I love imagining the velocity and windmill rotation of those airboat fan blades as an analogy for my golf club whipping down and through the ball with no strain whatsoever. This sensation also eliminates any guiding or steering of the club head with my arms and shoulders at the ball. My arms feel free enough to react to my pivot and whip the club up on the back swing then down on the through swing with unleashed velocity.
To feel and imagine this sensation let's focus on a couple of areas.
| | |
| --- | --- |
| 1 | My hands, most notably my fingers need to hold the club lightly to be free of strain. That means no squeezing and feeling your forearms tense up. |
| 2 | Try to sense the weight of the club head in your fingers and allow the club to swing like a ball and chain in your hands. |
| 3 | Feel like you have a whip in your hands and are about to crack it through the ball. |
| 4 | If I could twirl a baton in front of me I might do that drill as well with the golf club. |
| 5 | The pivot and shoulder rotation ignites the fan blades or arms to swing the club. |
All these analogies are intended to free up your hands, arms and shoulder so they do not interfere and slow down the swinging of the club. Their goal is to transmit velocity to the club head not force it. One of my favorite sayings in golf is FEEL THE FORCE DON'T FORCE THE FEEL!
My airboat golf swing relaxes my arms in front of me, I sense the weight of the club head in my hands and fingers, let the fan blades whip in front of me, and hope Isaac Newton was right. If you trust it, the club will align itself automatically into the back of the ball and you will swing the club with increased velocity and center face contact with the golf ball.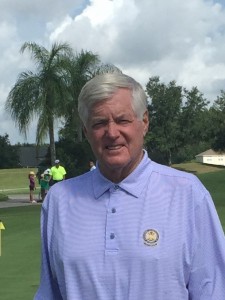 Rick Bradshaw
813.220.8099
2004/2006 North Florida Section PGA Teacher of the Year
Director of Instruction, Dent/Bradshaw School of Golf
Heritage Isles Golf Club