Add Distance And Feel To Your Game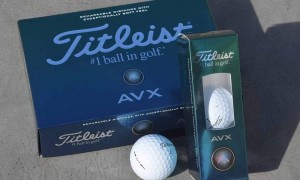 Help yourself play better
Check out our selection of Titleist AVX golf balls, which deliver premium distance, feel, and scoring control. These innovative balls, which are available in white and high optic yellow, have four key ingredients that any golfer will appreciate:
CORE – The high speed, low compression core results in a powerful engine to drive remarkable distance with exceptionally soft feel. 
COVER – The proprietary GRN41 urethane cover delivers great scoring control with an exceptionally soft feel and long-lasting durability.
CASING LAYER – You get greater distance thanks to the high-flex casing layer, which enhances speed while controlling spin.
AERODYNAMICS – The one-of-a-kind 352 Tetrahedral Catenary Dimple design provides optimal flight consistency on all shots.