Several years ago a businessman approached me for a lesson. He explained to me that he had to impress his boss the next day on the golf course. The man also told me he shot around 130 and rarely played but had told his boss he was a good player. I explained to him that he was in serious trouble and had only one option to save the day. He had to make his boss think he was good and was just having an off day! We went into the pro shop and bought him a classy soft collared golf shirt, golf shoes, glove, divot tool and expensive golf balls. We walked to the lesson tee and went to work on the 10 ways to make people think you are good at golf even if you are not.
| | |
| --- | --- |
| 1 | Dress the part: Soft collar up like Jim Colbert, nice cap, golf glove in back pocket with part hanging out so people think you are a golfer. |
| 2 | Good grip, even if it feels lousy. The tour grip is neutral and the hands work together. I gave him a picture and told him to keep it in his pocket. |
| 3 | Great practice swing. Always have a great practice swing! It's easier then when you swing at the ball, which is what you should not do. Think about swinging through the ball with your practice swing. |
| 4 | Great Finish! It is vitally important if you to impress others to finish with perfect form and spin the club with your fingers as you relax you arms down to your side. Even if you miss the shot, others with think you're just having a bad day. |
| 5 | Test the wind. Always, before each shot, bend over and pick up some grass and throw it up in the air. Your playing partners will be very impressed! |
| 6 | Place sand on your divot. Be sure to place sand in your divot and any other divots in the area. Don't bend down to do it. Learn to drop the sand in the divot from waist high. |
| 7 | Divots must be on an inside out path! Make sure that when you hit the ground with your club that the divot path is curved in to out which makes you draw the ball. Your boss will see the path and be very impressed! |
| 8 | Hook the ball no matter what. You must not slice, everything should go left at all cost. |
| 9 | Always carry a towel when you putt. Only pros mark their ball on the green and clean it with a wet towel. |
| 10 | Divot tool is a must! When you go up to the green to putt, fix somebody's ball mark, even if you don't make one. Your partners will be impressed! |
I shook his hand and said good luck. Two days later he returned and reported that his boss gave him a raise because he knew that he was once a good golfer, he was probably working too hard and was having an off day. Seriously – have fun improving and see your PGA professional for help but don't wait until the last minute!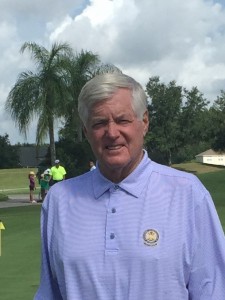 Rick Bradshaw
813.220.8099
2004/2006 North Florida Section PGA Teacher of the Year
Director of Instruction, Dent/Bradshaw School of Golf
Heritage Isles Golf Club